Disclosure: This post may contain affiliate links, which means we may receive a commission if you click a link and purchase something. Please check out our privacy policy for more details.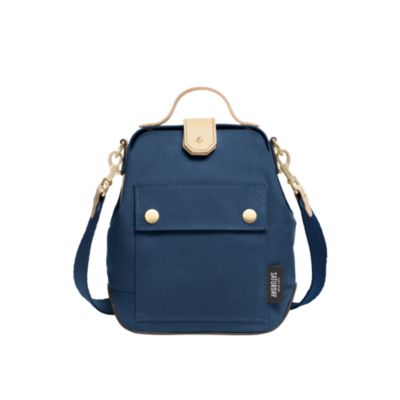 Generally speaking, my main shopping obsession is shoes. I'm under the impression that one can never have too many pairs of shoes. Yet lately, I have really been drawn to crossbody bags. Let's be honest: At least 50% of my interest in these bags lies in the fact that I can sling one over me and go completely hands-free, without worry about the bag slipping off my shoulder. I own up to my laziness, but I also love the chicness factor. There are some seriously cute crossbody bags on the market.
Earlier today I was browsing the Mother's Day Gift Guide at All Dressed Up with Nothing to Drink*. This Kate Spade Saturday Assembly Crossbody Bag was included in the gift guide and I am smitten!
I love the unique shape. Randomly, it makes me recall the cloth cigarette case my grandmother used to carry with her everywhere. I'm pretty sure I used to get her a new one every Christmas.
The Kate Spade Saturday Assembly Crossbody Bag is available in four colors, but the navy bag is my favorite. Originally $95, it's now on sale for $66.50.
By the way, the owner of All Dressed Up with Nothing to Drink, Cheryl, will be guest blogging here while I'm on vacation!
Disclosure: This post contains affiliate links, which means we may receive a (very) small commission if you click a link and purchase something.